Happy Halloween from This Lil Piglet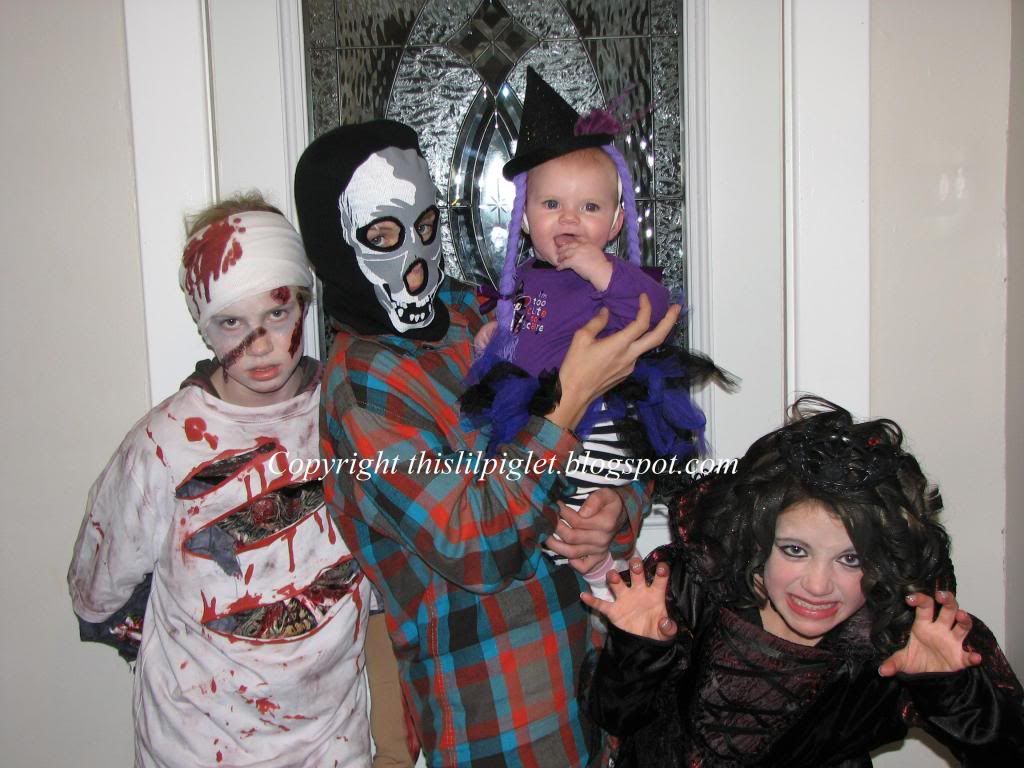 We had quite the collection of costumes yesterday, as you can see.  One dead patient (missing her crutches in the picture), one terrorist/lumberjack (we're not sure), one cute lil witch and one Vampiress (believe it or not, her hair is very blonde normally).
First of all my son decided earlier this month that he was "too old" to go trick or treating so he did not want me to get him a costume. I picked up his mask at the dollar store because it's really a belaclava and I thought he might like it for winter, plus it was super cheap if for nothing more than an extra around the house.  I don't know about your kids but mine always seem to lose their mitts and touque's.  Possibly the school has a bunch in their lost and found every year.  Last minute, of course, he decided he wanted to go trick or treating with a couple of his friends; lucky mom (me 😉 bought him this skull mask ahead of time.  Hehehe!  My mother thought he was a lumberjack; I`m not sure how many lumberjack`s you know who wear skull masks.  My grandmother thought he was a robber at her door; I guess he tricked her.
My youngest daughter decided about a month ago that she wanted to be a Vampire, picked out and ordered on buycostumes.com.  The costume showed up last week; in fact this is the second time ordering from buycostumes.com and both times I have been impressed with their service, shipping and quality.  It took my an hour to curl her hair in ringlets, use a whole can of black hairspray and paint her face; she looked like a completely different person but then that was the idea.  She was very happy with her costume.
My oldest daughter (9) wanted to be a dead patient, mainly because she wanted to use her old crutches (she had these from when she sprained her ankle 2 yrs ago).  This costume literally took me 10 minutes to throw together and all it cost me was a couple dollars for fake injury tattoo`s, gauze and fake blood; we had the rest of the costume around the house.  With the face paint I think it turned out really well; they look like completely different kids.
And then there is baby girl; I had bought all the girls each a tutu awhile ago for pictures so her tutu came in handy for her witch costume.  I found a Halloween onesie for a couple dollars that had a little witch on the front and said `Too cute to Scare" on it which matched perfectly.  Actually the tutu is the same purple, the picture doesn`t show the true color for some reason.  I had also picked up her striped pants on clearance before she was even born, not for the intention of Halloween just for an extra pair of pants but these kind of reminded me of the wicked witch from Wizard of Oz.  Lastly, I made her this cute little witches hat which makes me giggle everytime I see her in it.
Over all, it was a good Halloween and the family was very happy to see all of the kids.    I hope everyone had a safe and happy Halloween as well. 🙂