Weekend Hoppers Blog Hop 7/15 – 7/17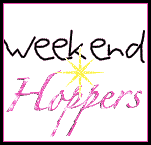 Welcome to Weekend Hoppers!
1. Follow This Lil Piglet – leave a comment with link so I can follow back!
(Please expect a follow back on or after Sunday! 🙂
1.2 Follow our co-host

Family Approve

3. Hop and follow all weekend long! PLEASE TRY AND FOLLOW AT LEAST 1-2!
4. Optional, place button somewhere, anywhere on that lovely blog of yours!