Tot School – Winter Wonderland Theme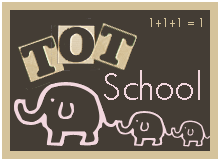 I've posted about planning for Tot School for Baby Girl when she came of age.  Baby Girl is now an 18 month old, not such a baby anymore, very independent and sassy little girl.  Over the past couple weeks I have arranged Tot School for Baby Girl a couple of times but up until today, have not organized the activities enough to post about them; this is my first Tot school post and I hope you enjoy it.
Baby Girl Age 18 Months
Theme: Winter Wonderland
Color Focus:  Blue
Where can you find these materials?  The Tot School Store
Activity 1: Playdough Cookie Cutter – motor skills, sensory, colors; speech.  Materials: Blue Playdough and a star shaped cookie cutter.
Baby Girl had a blast squishing the Playdough through her fingers, mashing it down and making designs in the dough with the cookie cutter.  She didn't even try to eat it. 😉
 Activity 2:  Stacking Blocks – Motor skills, colors; speech.  Materials used: Foam alphabet stacking blocks.
Baby Girl had fun stacking the blocks on her table and balancing the blocks in her hand while she stacked them on top.  She did pretty well with this balancing act.
Activity 3:  Pouring – Motor Skills, sensory.  Materials used:  2 plastic holiday containers, craft sparkly pom poms.
This is one of Baby Girls favorite activities because she can pour the pom poms back and forth or dump them on the table to pick them up with her fingers one by one.  She seems to like the way the fuzzy pom poms feel between her fingers and enjoys watching them fall into the container.
Activity 4:  Winter Wonderland Sensory bin – Motor Skills, colors, sound, SENSORY. Materials used:  Large bin with lid, blue jingle bells, silver unbreakable light bulbs (Christmas ornaments), blue beaded necklace and bracelet, nesting penguin set, blue round stones, white pipe cleaners, white beads.
Baby Girl literally spent 30 minutes playing with all the items in the Winter Wonderland sensory bin, stacking her nesting penguins (a favorite), wearing her necklace and bracelet, banging the bells together and lacing the pipe cleaners through the beads.  She would lift up the blue items and tell me the color "Blue" and roll the blue stones between her fingers.
Similar to Montessori School the idea behind Tot School is not to overwhelm your child or force learning on them; if they aren't ready, let them be.  Tot School isn't really school, it's more of an organized play time using sensory toys.  Baby Girl guides Tot School; some days she refuses to play with anything I present to her so we try again another day.  The main idea behind Tot School is to try to introduce these activities throughout the week, more as they grow older but always to let the child guide you for their learning.  When it becomes no longer fun, the purpose of Tot School has been forgotten. I try to focus 2-4 activities around different themes, sometimes seasonal themes, about 3 times per week at this age and depending on what Baby Girl wants to do.
I hope you enjoyed the Winter Wonderland theme for Tot School this week.  If you are looking to gather these items for your own theme, you can find similar items in my Tot School store.  Many items can be utilized for Tot School, take a look around your home or things you might already have.   If you do Tot School or would like to start, I would love to hear from you. 🙂
Warning:  As with anything, ALWAYS supervise your children with these activities and items.  Some are not meant for children under 3 because they are small and a choking hazard.  I do not allow Baby Girl to put anything in her mouth except approved food items.