ReUsies Review and Giveaway
CLOSED – Congratulations to winner/comment # 23!!!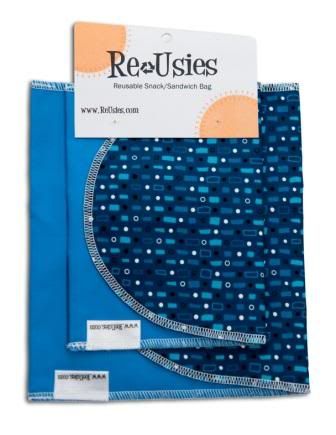 I received a snack and sandwich bag set in the Seatle Rain fabric print from ReUsies™ for review. My daughter recently started a recorder class at school which runs at the lunch hour so receiving these reusable lunch bags when I did was perfect timing. As many of you know we are building a home on the farm and once we move in the kids will be attending a different school where they will be bussed from our farm location; this will require lunches everyday of the school week. 3 kids X 5 days per week = 15 lunches per week X 1 month = 60 lunches per month or 780 lunches per year…that is a lot of throw away plastic sandwich bags and this does not include my baby girl who in just over 4 years from now will be starting kindergarten when she will also need packed lunches. "ReUsies™ are a re-usable alternative to sandwich/snack bags, each one has the potential to eliminate hundreds of plastic bags. ReUsies™ are 100% cotton lined with leak-resistant nylon and are secured with Velcro® closures."
I was impressed with the secure stitching along the edge of the fabric, sealing the fabric and nylon sides together. The nylon creates a more air-tight, although not complete, seal; combined with the fold over lip of material helps to keep your sandwiches and snacks fresh. For the freshest foods, I pack my lunches the morning of but this also helps keep the condiments on the sandwiches from making the bread and lettuce soggy. As you can see by the video below, these bags can be washed easily which makes it much more convenient for me; as it is, there isn't enough time in the day. The cute fabric choices are great for the kids to chose their own patterns; my daughter has received a lot of compliments and interest. The best part is that my daughter feels proud that she is helping to protect our environment by keeping her share of plastic bags out of our landfill. She has been learning a lot about the importance of recycling in school over the past couple years; she has become our little triple 'R' advocate (Reduce, Reuse, Recycle) and it's been great to see her sense of reuse carry over from the ReUsies™ sandwich and snack bags to reusable drink containers and other lunch accessories.
If your looking to decrease your carbon footprint on the environment by becoming less damaging to our environment, reusable lunch accessories are an excellent start. With ReUsies™ fun prints to choose from, you'll have a smile on your face packing your lunch everyday.

How to Use ReUsies from ReUsies on Vimeo.

How to Clean ReUsies from ReUsies on Vimeo.
Buy It: Purchase your very own ReUsies from http://www.reusies.com/ now.
Win It: Open to US and Canada Residents…ONE lucky winner is going to win 1 snack and 1 sandwich ReUsies set.
Mandatory Entry:
Visit
http://www.reusies.com/
and tell me which top 3 fabric prints of ReUsies are your favorite
. Your winning set will be selected from these choices.
**You must be a Google Friend Connect Follower of this blog to participate**
1. Subscribe to our mailing list via email located on the right sidebar of this page. (2 entries/2 comments required)
2. Follow our RSS blog feed (1 entry/1 comment required)
3. Become a Fan of This Lil Piglet on Facebook (1 entry/1 comment required)
4. Blog about this giveaway with a link to this review and giveaway and post the link in your comment to where I can find your blog post. (1 entry/1 comment required)
5. Enter another giveaway on this blog (total 1 entry/1 comments required for each giveaway entered)
6. Follow This Lil Piglet on Twitter (1 entry/1 comment required) AND Copy, Paste Tweet this out on Twitter; must be exactly as stated between quotes " Enter to #win a @ReUsies sandwich and snack bag set from @thislilpiglet Great for school lunches and the environment http://ow.ly/3SuVZ " (Tweeting this on Twitter up to ONCE PER DAY will gain you 1 entry/1 comment required PER DAY for each day of the contest)
7. Follow ReUsies on Twitter and tell them @thislilpiglet sent you! (1 entry/1 comment required)
8. Add my Review and Giveaway button to your website or blog sidebar, using the HTML code in the left sidebar of this blog and post the link where I can check. (3 entries/3 comments required)
**Giveaway ends 11:59 pm CST on February 24th, 2011. Open to US and Canada!**
Rules of the giveaway:
*Each comment counts as 1 entry so if it says 2 entries you must comment 2 times (for example, Comment #1 would read: "I subscribed to your mailing list #1", Comment #2 would read: "I subscribed to your mailing list #2". I will check so please make sure before commenting below otherwise your entry will be disqualified. Enter once or more; other than the Twitter tweet entry (once per day) you can enter a maximum of once per entry details specified. You must leave a comment below to enter the contest; the winner will be chosen using random.org from the comments below only.
*For shipping reasons, please include your email address so I can contact you if you are the winner. To avoid spammers, type your email like this: blog (at) thislilpiglet (dot) com Shipping charges associated with the giveaway will be paid for by the company.
Disclaimer: The product mentioned above has been provided free of charge from the company for the purposes of this review. Opinions expressed belong solely to This Lil Piglet and are NOT influenced in any way. Other than the review sample product This Lil Piglet has not received any form of compensation for the review of this product.