CLOSED…March Madness – Giveaway #3 Kidorable
Congratulations to winner/comment #68.
You will be contacted via email shortly.

"Awwww!!!" was the response from my 3 older kids as soon as I opened the Kidorable box. Their noses all peeked in around the box to see the Ladybug Raincoat, Ladybug Backpack and Ladybug hooded towel for Baby girl that I received from Kidorable to review. Each item was wrapped securely, each in it's own individual bag, to ensure it would arrive as it was shipped, fresh and new. I chose the ladybug theme because Ladybugs are a favorite of Hubs. When he saw Baby Girl cruising around the house with her Ladybug Backpack strapped to her back, he laughed so hard and said "Oh my goodness, isn`t she just the cutest little bug!"
The hooded towel is a plush terry cloth with the cutest details, antenna and eyes on the hood of the towel with black legs that button together at the top; she almost looks like she's in a costume. I use this towel for bath time right now, simply because it's still too cold outside to take to the pool but you can guarantee once summer shows up, Baby Girl will be sporting this towel at the pool. She'll be sure to turn heads.
The Raincoat is made from a vinyl type material in vibrant colors with the most defined details. The pockets have zippers to keep little things dry, one of which is decked out in a ladybug character, antenna to boot. The raincoat came with it's own hanger which was also detailed in the cutest matching ladybug theme; theme hangers can be purchased in packs as well. The size 1T that I chose for review was a little bigger than expected; Baby Girl normally wears sizes 12 months but all sizes vary between brands. The only thing I would have preferred would be a heavier lining but a hoodie underneath gives her the perfect fit and in our cooler climate this is what will be needed anyway. It`s a beautifully cute coat; I can`t wait to take Baby Girl out on the town to show of her new coat. I have taken these items around family and friends to get their opinions and the response has been nothing but positive. I cannot wait until Baby Girls feet are big enough for her first pair of rubber boots; they will be perfect for the farm.
This little backpack isn`t so little, not too big either. I expected this lightweight backpack to be small as most toddler backpacks are but I was pleasantly surprised at the roominess of this backpack. The inside is also water resistant which is a must when you have little ones, easy to wipe down in case of spills. The eyes, antenna, ladybug zipper pull give added details to this backpack. The extra pockets are nice for easy to find toys or soothers. The straps adjust smaller for little arms and bodies without the excess straps hanging down which so many other backpacks have (kids do not need that hazard). To be honest I now use this as Baby Girl`s diaper bag; it`s roomy enough to carry a few diapers, wipes, a bottle, a couple toys, bib and some snacks. I have received so many compliments on these items and requests for where to buy these. With so many themes to choose from in not only raincoats, backpacks and hooded towels but bookends, mitts and t-shirts, you will love their selection. I cannot be happier with the products I received to review.
About the Company
In 1997, Kidorable sprung from the minds, hearts and efficiency apartment of Liping and Jonathan Domsky. They proclaimed, "The world needs someone to create children's apparel and accessories that are both functional and fun. We can do that."
And so Kidorable was conceived. Starting with lions and cats and bears, oh my, manifested as umbrellas and hangers, Kidorable generated enough sales during its first year to break even and plant fruitful Kidorable seeds throughout the land. The following year sales grew ten fold. Every year since, give or take, a new style and/or product line debuted. And every year, the world joyfully embraced more Kidorable delights, give or take, than the year before.
Children, it turns out, absolutely and unconditionally love Kidorable (almost as much as their parents and other children-loving grown-ups do.)

For all season fun, Kidorable has it covered
Kidorable has taken the idea of the humble umbrella and transformed it into an imagination tent. Kidorable is proud to offer the most popular assortment of whimsical umbrellas ever created. Made of 100% nylon, Kidorable umbrellas are child-sized for those little hands. (measures 24″ long and 27″ diameter open)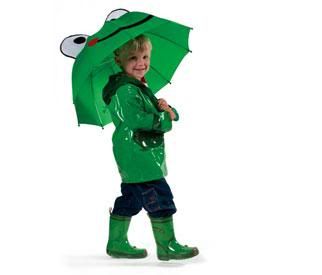 One lucky Winner will receive a Kidorable Umbrella of their choice! From frogs and lady bugs to space suits and ballerina tutu's; you will love the Kidorable collection. Choose from rain coats, boots, umbrella's, backpacks, mitts and more in your favorite theme. These are adorable; your child will be the talk of the playground sporting this umbrella around.
Where to Buy: http://www.shareasale.com/r.cfm?B=279303&U=501223&M=24554
Facebook: http://www.facebook.com/kidorable
Twitter: http://twitter.com/Kidorable
Mandatory Entry:
Visit
http://www.kidorable.com/
and tell me which theme is your favorite. The theme you specify with be the umbrella you will receive if you are the winner.
**You must be a Google Friend Connect Follower of this blog to participate**
1. Follow our RSS blog feed (1 entry/1 comment required)
2. Become a Fan of This Lil Piglet on Facebook (1 entry/1 comment required)
3. Follow This Lil Piglet on Twitter (1 entry/1 comment required) AND Tweet this out giveaway out using the Twitter link above; post the link to your Tweet in your comment (Tweeting this on Twitter up to ONCE PER DAY will gain you 1 entry/1 comment required PER DAY for each day of the contest)
4. Add my Review and Giveaway button to your website or blog sidebar, using the HTML code in the left sidebar of this blog and post the link where I can check. (3 entries/3 comments required)
5. Become a Fan of Kidorable on Facebook (1 entry/1 comment required)
6. Follow Kidorable on Twitter AND tell them I sent you (1 entry/1 comment required)
**Giveaway ends 11:59 pm CST on March 20th, 2011. Open to US and Canada!**
Disclaimer: The product mentioned above has been provided free of charge from the company for the purposes of this review. Opinions expressed belong solely to This Lil Piglet and are NOT influenced in any way. Other than the review sample product This Lil Piglet has not received any form of compensation for the review of this product. Since the review of these products, I have become a believer in this companys products; if you do so choose to purchase, I am affiliated.