CLOSED…March Madness – Giveaway #2 Kiddie Catch-All
Congratulations to winner/comment #24.
You will be contacted via email shortly.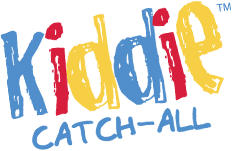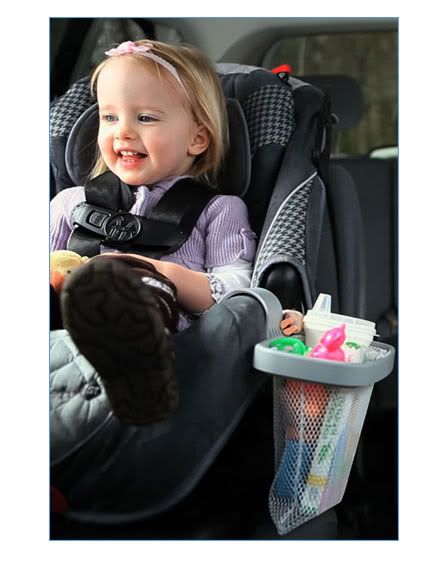 The Kiddie Catch-All™ is a small basket that can easily be clipped onto a carseat for easy access to all the little toys, soothers, bottles or sippy cups a child might need along his/her travels. This item arrived at the perfect time for me to review.
My baby daughter just graduated into a forward facing carseat recently because she is too long for the rear facing carseat. I am always in the vehicle driving the older kids to school and back or to their extra-curricular activites and baby girl hates it. The problem was that she would constantly lose her toys off her lap causing me to have to pull the vehicle over to grab her toys or ask one of the older kids to grab them for her; both equally as distracting.
I slipped the Kiddie Catch-All™ over the armrest on both sides of her carseat, right underneath the fabric; with the flexible plastic this basket is made out of, it should fit most car seats. The Kiddie Catch-All™ is perfect for storing all her little toys that she might want during our car ride. I really appreciated the adjustable nylon netting because, not only does it stretch with the items, my little gal is smaller so she has a harder time reaching down into the deep pocket of the basket. I adjusted it to be a smaller pocket on the one Kiddie Catch-All™ so she can easily reach her toys and left the other one at the regular pocket depth for bigger stuffed animals so she can also bring her pals along. I love that this basket is easy to put on and take off of the car seat so that you can easily scoop up toys from the house and bring them along or when your done traveling, scoop the toys off the floor of the vehicle and slip the basket back over the car seat for the next time.
These days with the older children in booster seats, the child can use the full length of the basket pocket and store even more in their Kiddie Catch-All™ such as a handheld game system, a book or some snacks. The basket also fits most arm rests of regular vehicle seats, when kids are old enough to ride without a booster seat; your kids will never be bored. If you're on the road a lot, have your older kids slip their homework into their basket and they'll have no excuse as to why they could not get it done. The nylon netting is removable for cleaning and the rest of the basket can be wiped down. I really liked the simple design of the basket. There is no need for anything elaborate, it either works or it doesn't; this basket works!
Company
Kiddie Catch-All™ is the perfect accessory for your car, truck or minivan! Fill it with books, toys, games, snacks, sippie cups…whatever your child wants is now right at their fingertips with the Kiddie Catch-All™. Never worry about picking things off the floor while driving again! And no more taking your eyes off the road! Keep your car organized, your family safe and your children occupied with the Kiddie Catch-All™.
NO MORE TAKING YOUR EYES OFF THE ROAD!
NO MORE PAINFUL TWISTING AND STRAINING!
NO MORE WHINING AND SCREAMING BECAUSE THEY'RE BORED!
If you purchase on Kiddie Catch-All™ for $12.95 (regularily $19.95), you will get the 2nd FREE. This is an exceptional deal. Not sold in stores.
You will also receive a FREE CD A $10 value, FREE!
Original, Fun, Character Building, Moral Teaching, Sing-Along Christian Children's Songs! 11 original songs PLUS 7 music tracks for karaoke style fun as you travel!
Mandatory Entry:
Visit
http://kiddiecatchall.com/
and tell me where this product was made. Hint, it's in the video and at the bottom lefthand of the web page.
**You must be a Google Friend Connect Follower of this blog to participate**
1. Follow our RSS blog feed (1 entry/1 comment required)
2. Become a Fan of This Lil Piglet on Facebook (1 entry/1 comment required)
3. Follow This Lil Piglet on Twitter (1 entry/1 comment required) AND Tweet this out giveaway out using the Twitter link above; post the link to your Tweet in your comment (Tweeting this on Twitter up to ONCE PER DAY will gain you 1 entry/1 comment required PER DAY for each day of the contest)
4. Add my Review and Giveaway button to your website or blog sidebar, using the HTML code in the left sidebar of this blog and post the link where I can check. (3 entries/3 comments required)
**Giveaway ends 11:59 pm CST on March 20th, 2011. Open to US and Canada!**
Disclaimer: The product mentioned above has been provided free of charge from the company for the purposes of this review. Opinions expressed belong solely to This Lil Piglet and are NOT influenced in any way. Other than the review sample product This Lil Piglet has not received any form of compensation for the review of this product.